I've been keeping my eye out for this one for a long time, but it has become increasingly more difficult to see this one in the wild. I searched for it on eBay, found a few people selling the 4 Men with Beards reissue on 180 gram vinyl, and immediately put it in my watch list. After a few months of looking at my watch list, and just seeing it sit there and DARE me to buy it, I finally did.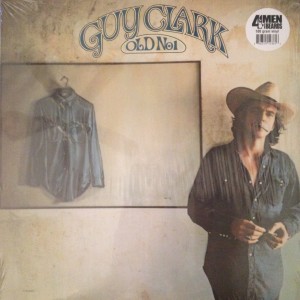 It's difficult to covey how much this record means to me. Very few artists I can think of can convey a very clear sense of place in their songwriting and/or recording, but this record SOUNDS like Texas (although it was recorded in Nashville). I can picture the kind of light grey asphalt on Highway 287 with the black squiggles of tar on the cracks in the road, with the telephone poles hugging next to the railroad tracks disappearing toward the horizon. This is Guy writing at the apex of his powers, and every single song is a masterpiece.
Not only is the songwriting masterful, the feel the session players bring to the record is spectacular. Steve Gibson on Guitar, Larry Londin on Drums, Mike Leech on Bass, Hal Rugg on Pedal Steel. Interestingly, Dick Feller, the guy that wrote "Some Days Are Diamonds" for John Denver and "Eastbound And Down" for Jerry Reed, plays guitar on this album too.
That being said, two songs in particular stand out to me. One is "She Ain't Goin' Nowhere" on Side A, a song about "Five minutes in a woman's life," as Guy likes to say in his live shows. The other standout is "Instant Coffee Blues" on Side B, a song about a one night stand with some amazing and haunting steel guitar by Mr. Rugg.
This reissue is actually better than the original in one key respect: it's on 180 gram vinyl. I could feel the substance and stability as removed it from the sleeve the first time. The original was on a flimsy RCA pressing  that you could make thunder sounds with if you shook it as you held it between your palms.
This record and Guy's second record, "Texas Cookin'" are forever in the kick ass songwriting pantheon. Listen to them, and you will see why both albums, in their entirety, made it into Papa B's Guy Clark mixtape.