We've been going to the neighborhood Goodwill store almost every weekend for months. As soon as I walk through the door, I leave Sherry somewhere near the jewelry counter, and I make a bee-line for the records. For the last 6 weeks, there has been nothing new really, and I have flipped through the same stack of Larry Gatlin and Ernest Tubb and Judy Collins records each time, hoping that there is some new huge influx of recently stocked records laying just behind the Richard Strauss II box set waiting for the diamonds to somehow shine through the mildewed sleeves.
Unfortunately, for at least 5 weeks that I can remember, I have struck out. So much so, that I have actually seriously considered NOT digging. In fact, this weekend, as I rounded the bookshelf on my way to the vinyl, my heart sank. The records were all of a familiar arrangement on the shelf, indicating that they were basically as I had left them last weekend. It was probably a futile exercise to bother flipping through this tired stack of horribleness again. But still I looked, rolling my eyes as my fingers grazed past those familiar Larry Gatlin and Ernest Tubb records, on past the Box set of Strauss on the next shelf, down through the Judy Collins on the shelf closest to the floor. Here I encountered a little hope: some Mel Torme that I didn't remember form my previous visits. Then, in a sleeve that looked as if it had been buried in a land fill for a few years before being donated, I found one record to take home. Luckily, the record was in very good condition. I hold in my hands Gordon Lightfoot's 1972 Album Don Quixote.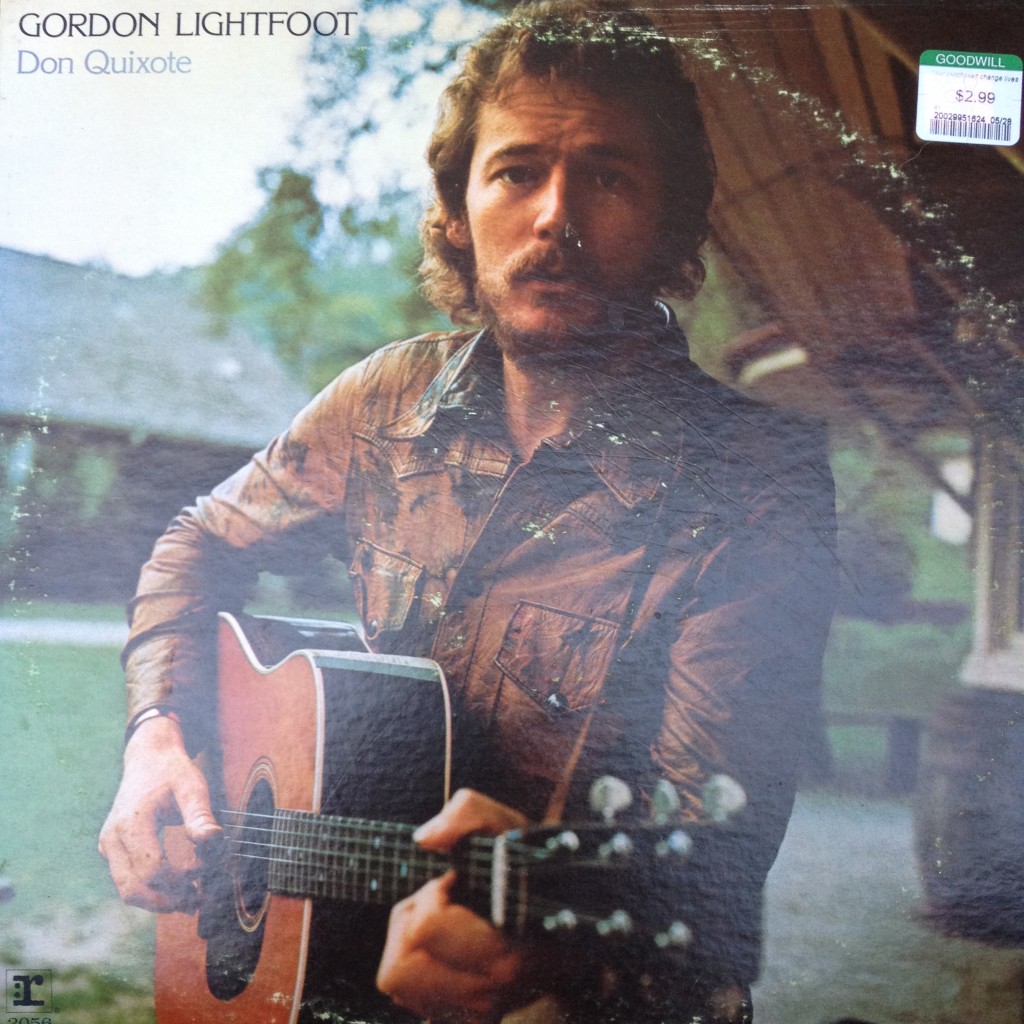 My dad had a Gordon Lightfoot mixtape for those long drives to Texas, and I always remember the song "Don Quixote," because it inspired me to read Cervantes when I was in 6th grade…now by "read" I mean I actually did look at each word in that book when I was 11, and say it internally…but did I retain any plot or story elements? No. Of course not. I could, however, claim to have read Don Quixote de la Mancha when I was far too young to understand it.
There are a few standouts on this record that made Papa B's "Gordon Lightfoot Mixtape." Obviously, there is "Don Quixote," but also on this record are "Alberta Bound," -which has Ry Cooder playing mandolin, interestingly; "Looking at the Rain," "Second Cup of Coffee," and "Beautiful."  I was surprised to find, when investigating some of the tracks that didn't make the Papa B cut, "On Susan's Floor," a song co-written by Shel Silverstein and Vince Matthews. I have cataloged my love for Shel's songwriting in previous blog posts, so I won't go into it here. This song, while not all that funny, has a really interesting rhyme scheme, kind of doing a "Tangled Up in Blue" thing.
What strikes me about this record is the instrumentation. Basically, Gordon plays guitar and 12 string guitar and sings both lead and harmony vocals, while Red Shea and Terry Clements play other guitar shaped instruments of various types, and Rick Haynes plays electric bass. No Drums. At times, it seems like there are rhythmic figures played by thigh slapping or some kind of muted clapping. Hambone?!  Over the top of all this, are the string arrangements, which are a bit more non-intrusive than other records from this period.
I think this record should be bought for the cover alone, even if it looks like it was chewed on by rodents. In fact, ESPECIALLY if it looks like it has been chewed on by rodents. Four Tracks made the Papa Burrows mixtape, so it has his seal of excellence. Ry Cooder. Shel. C'mon! It's great!